It's going to be a really happy Mother's Day!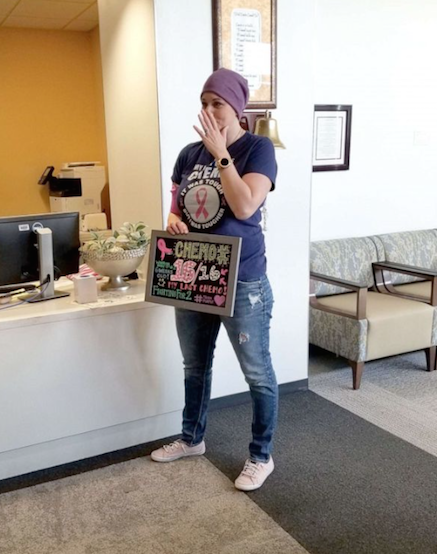 From GMA:
Jessica Purcell completed 12 rounds of chemotherapy while pregnant with her second child.
It was no surprise then that Purcell, of St. Petersburg, Florida, used all of her strength, and shed some tears, as she rang the bell last week at Moffitt Cancer Center in Tampa to mark her final chemotherapy treatment.
Purcell, a U.S. Army reservist who works as a civilian for the U.S. Air Force, first noticed a lymph node in her armpit in 2017, when she was pregnant with her oldest child, a daughter named Josephine. She said she and her doctor brushed it off as something pregnancy or hormone-related.
At 21 weeks pregnant, last November, she began chemotherapy.
Breast cancer occurs about once in every 3,000 pregnancies, with an average age for diagnosis between 32 and 38, according to the National Institutes of Health's National Cancer Center.
"These are young women so they don't normally undergo screenings or mammograms, so usually the cancer is a bit more advanced," said Dr. Hung Khong, an oncologist who was part of Purcell's care team at Moffitt. "In Jessica's case, that's just what happened."
Get the full story HERE.